Test Day Information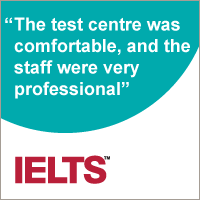 | Test Date | Day | Academic | General Training | Final Date for Registration |
| --- | --- | --- | --- | --- |
Candidates are expected to arrive at the test center no later than 8:30 am. Doors will open and registration will begin at 7:45 am. Candidates are required to bring the same passports used for registration on the day of the test. No other form of identification is accepted. The test begins at 9:00 am and the total test time is about 3 hours and 15 minutes (Listening, Reading and Writing). The Speaking test is scheduled during the afternoon Saturday after the written portion of the test between 12:30 pm and 6:00 pm. You should therefore be prepared to remain at the test center the whole day on Saturday. Requests for specific Speaking test times are not granted, and we cannot change your allotted time once it is scheduled.
Please leave personal items (such as cell phones, cameras, iPods, calculators) at home or in your vehicle as you will not be able to take them into the test room. You are only allowed to bring the following items into the test room: your passport,drinking water in a transparent bottle, and/or reading glasses if needed (no case). If you need other forms of liquid or food in the test room for medical reasons, you should request permission from the IELTS Test Administrator on duty before the day of the test. Please let us know well before the test date if you have any questions regarding what is and what is not permitted in the test room.
Download the Information for Candidates booklet for more information about IELTS test.
Cancelling your IELTS test or requesting a transfer
Transfer, Cancellation And Refund Policy
Request for cancellation or postponement of your IELTS test must be made strictly 5 weeks before the test date via email or in person only. Telephone cancellation or postponement will not be accepted.
Cancellation more than five weeks ahead of the test date – you will receive a full refund (less a 25% administrative fee)
Cancellation less than five weeks ahead of the test date you will receive no refund.
Failure to appear for the test without notification is considered a cancellation, no refund will be issued, and you must register and pay again if you wish to take the test on another date.
Candidates seeking cancellation or transfer within the 5-week period prior to the test date, or those who fail to appear for their scheduled test, can receive a refund (less a 25% administrative fee) if they can provide evidence within 5 days that their ability to sit for the test has been affected by serious illness or cause:
Serious Illness – hospital admission or serious injury
Loss or Bereavement – death of a close family member
Hardship/Trauma – victim of a crime, victim of a traffic accident
Military Service
You must complete a "Request for Refund" or "Test Day Transfer Form" and attach appropriate documentation and/or evidence; such as a medical certificate from a qualified medical practitioner, a death notice or certificate or a police report. Contact your local test centre for more information.
Refunds
Contact your local IDP IELTS test centre for more information about the refund policy.